We've been around since 1956 – and we moved into house building in the early 1990s when Chairman, Sandy Adam started selling homes from his spare room.
We've been growing steadily ever since, building high-quality, energy efficient homes across multiple tenures throughout Scotland. The company listed on the Alternative Investment Market in 2017 which was a significant milestone in our growth, and we've since welcomed Dawn Homes, Walker Group, Tulloch Homes and Mactaggart & Mickel to the Group. Together, with Springfield Partnerships, we build around 1,000 homes a year.
We have summarised some of our key highlights for your interest below.
2022
2022 was a year of celebrations and awards recognising our innovative work and sustainable developments across Scotland. With 8 awards secured in the year, including two UK wide WhatHouse? Awards and the prestigious Scottish Home Award Housebuilder of the Year title, we are delighted that our high quality, energy efficient homes in sustainably designed places, with thriving communities, are being recognised across the industry.
We also welcomed Mactaggart & Mickel Homes to the Group who have been delivering high quality homes across central Scotland for nearly 100 years. The £46.3m deal includes a Glasgow based Timber Kit factory, adding to Springfield's existing facility in Elgin, and land with planning permission in areas of significant demand.
We formalised our approach on the work we already do to reduce our impact on the environment and the ways we engage with communities. In September, we published our first Environment, Social and Governance (ESG) strategy which outlines the steps we are going to take to continue to improve the work we do in this area.
And we have introduced new customer facing websites, improving customer experiences, launched a Group website, offering key information about the business for the market and we've implemented a staff intranet, connecting our employees across multiple locations.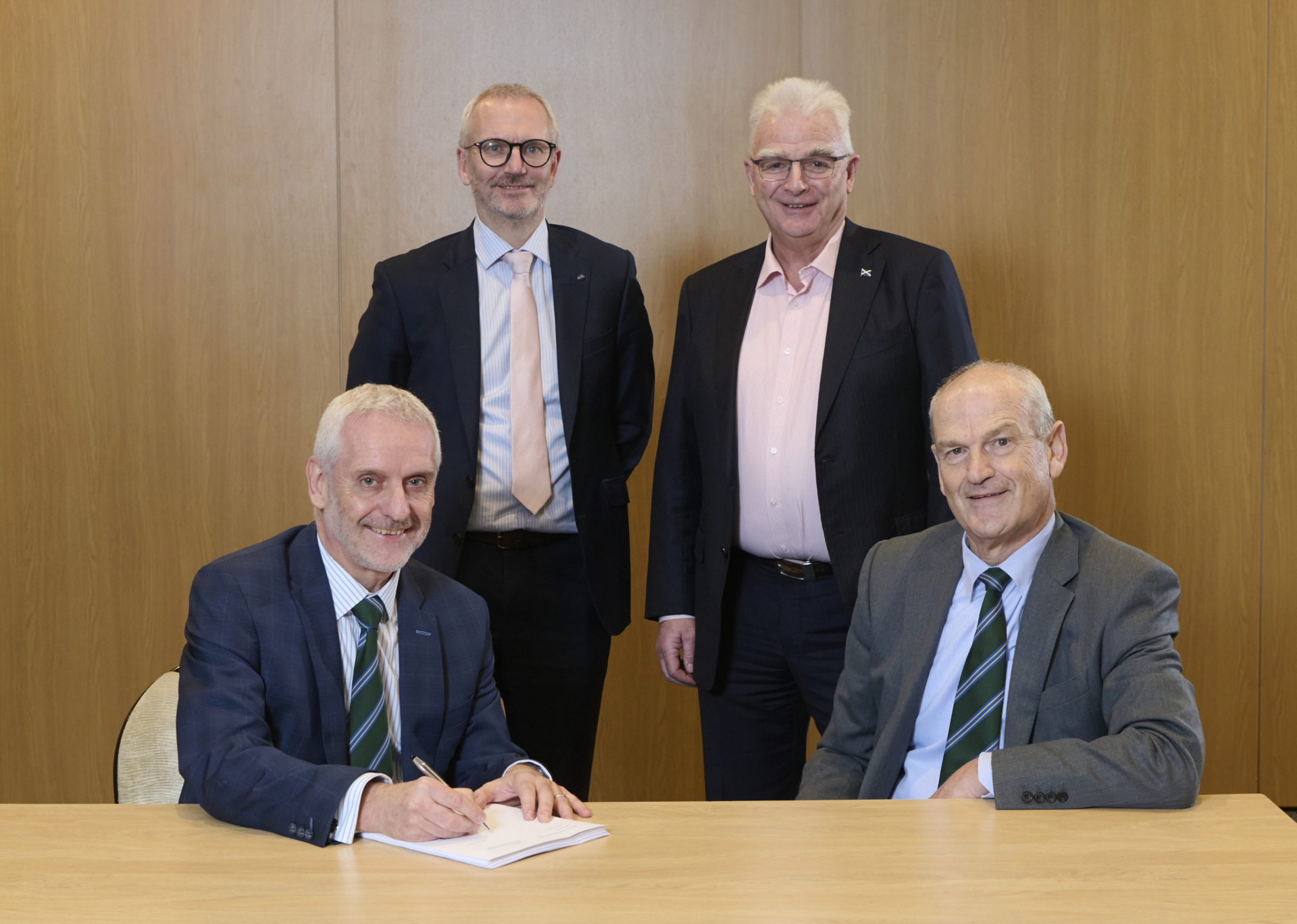 2021
This year we expanded our tenue offering by launching the first Private Rental Sector (PRS) housing in Scotland at our Bertha Park Village in Perth with our partners, Sigma Capital. Now, Bertha Park offers housing for private sale, social rent, mid-market rent and the private rented sector giving more people a way to call Bertha Park home.
We also welcomed the first electric van to the fleet as part of our wider sustainability strategy to reduce our carbon footprint. Later in the year, our first employee collected their fully electric car following our introduction of zero-emission company vehicles for staff.
With a focus on mental health and wellbeing, we partnered with Lighthouse Club - The Construction Industry Charity. An organisation that supports staff, subcontractors and their families. Lighthouse offers a range of proactive support resources for the construction community including a 24/7 industry helpline, app and free wellbeing and mental health workshops. In addition to this, over 40 employees, including the Chief Executive, undertook a Mental Health First Aid course.
And, finishing the year on a high, we acquired Inverness builders, Tulloch Homes as part of a £5.4m deal strengthening the Group's geographical reach in the Highlands.
2020
2020 was a bizarre year for us all. Yet, given the disruption and uncertainty, we finished the first half of the financial year on a high, in part, thanks to the increased demand for homes with space for home working and private gardens – like the homes we build. In fact, we announced to the market that we expected revenue to be significantly higher than the same period last year.
We adapted the way we communicate with employees by introducing text alerts and the way we engage with customers has evolved too. With pandemic restrictions in place, we offered 360 degree show home tours, virtual walkthroughs of developments and introduced a booking system to give our customers dedicated time with the sales executive. We also secured the 2020 In-House Gold Standard Award following an outstanding 95% of our customers recommending our homes to family and friends.
Progress was made at our villages, Bertha Park, Perth and Dykes of Gray, Dundee as well, with a local convenience store opening in each, adding to the amenities for the new communities and planning permission for our first Private Rented Sector (PRS) homes with our partners, Sigma Capital was approved at Bertha Park.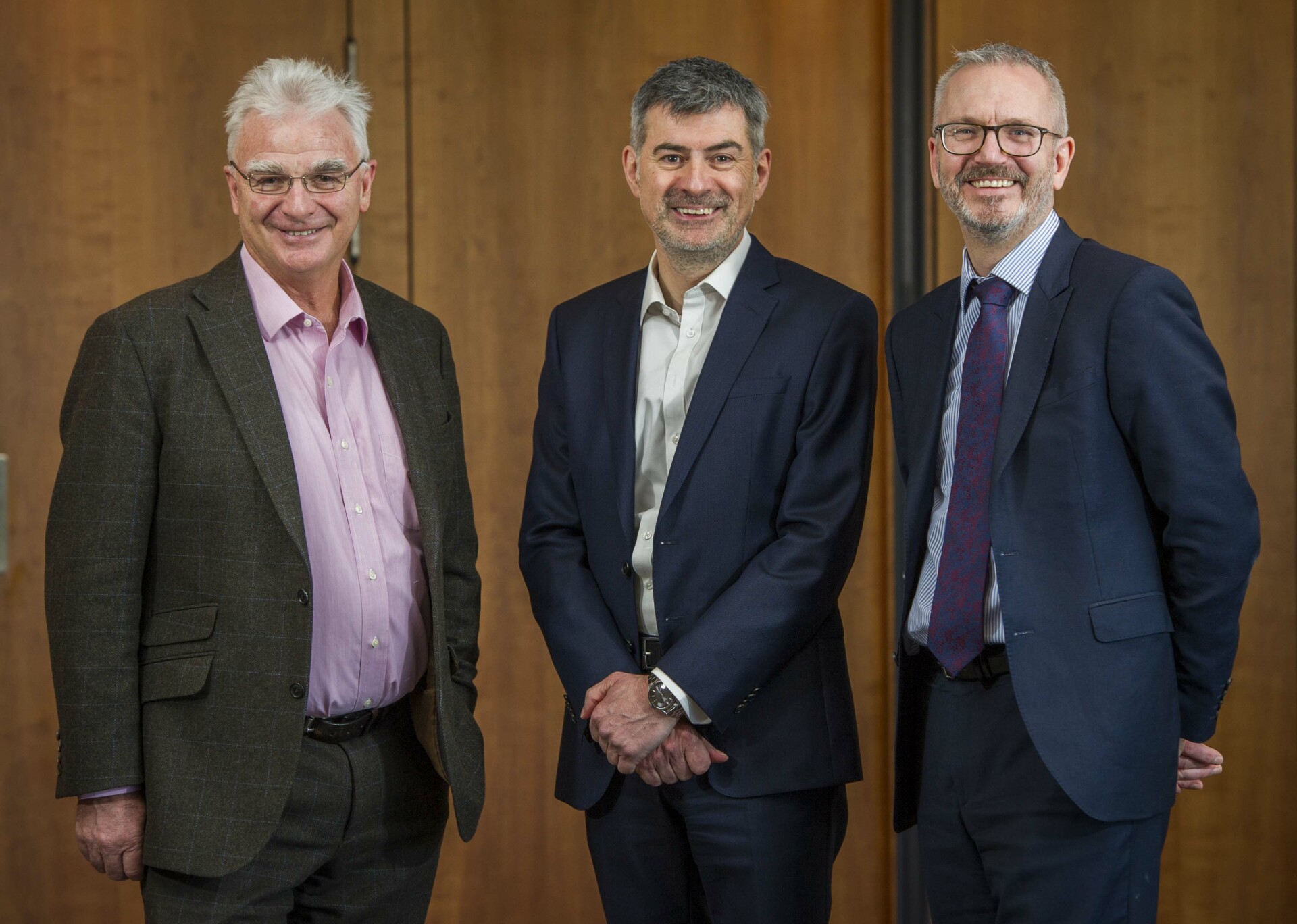 2019
Kicking off 2019, we welcomed Livingston based home builders, Walker Group to the business as part of a £31m deal continuing our growth. Walker, with developments in the commuter area of Edinburgh, is a reputable family builder with a wealth of experience and is a great fit and addition to The Springfield Group.
As a first in the UK, we became the first homebuilder to use waste plastic, that cannot currently be recycled, in a road at our Linkwood Steadings development in Elgin, reducing the amount of bitumen required.
​​​​​​​
We also expanded to Inverness with a key land acquisition, the purchase of Easterfield Farm. Covering 14 acres, this marks a key milestone in our growth strategy.
And, finishing the year on a high, planning permission for a new village, Durieshill on the outskirts of Stirling was approved. The new village will include 3,000 homes across multiple tenures, local amenities such as shops and cafes and everything the community needs to thrive. The landscape will be retained with existing and new woodlands, an orchard and a variety of new open greenspaces.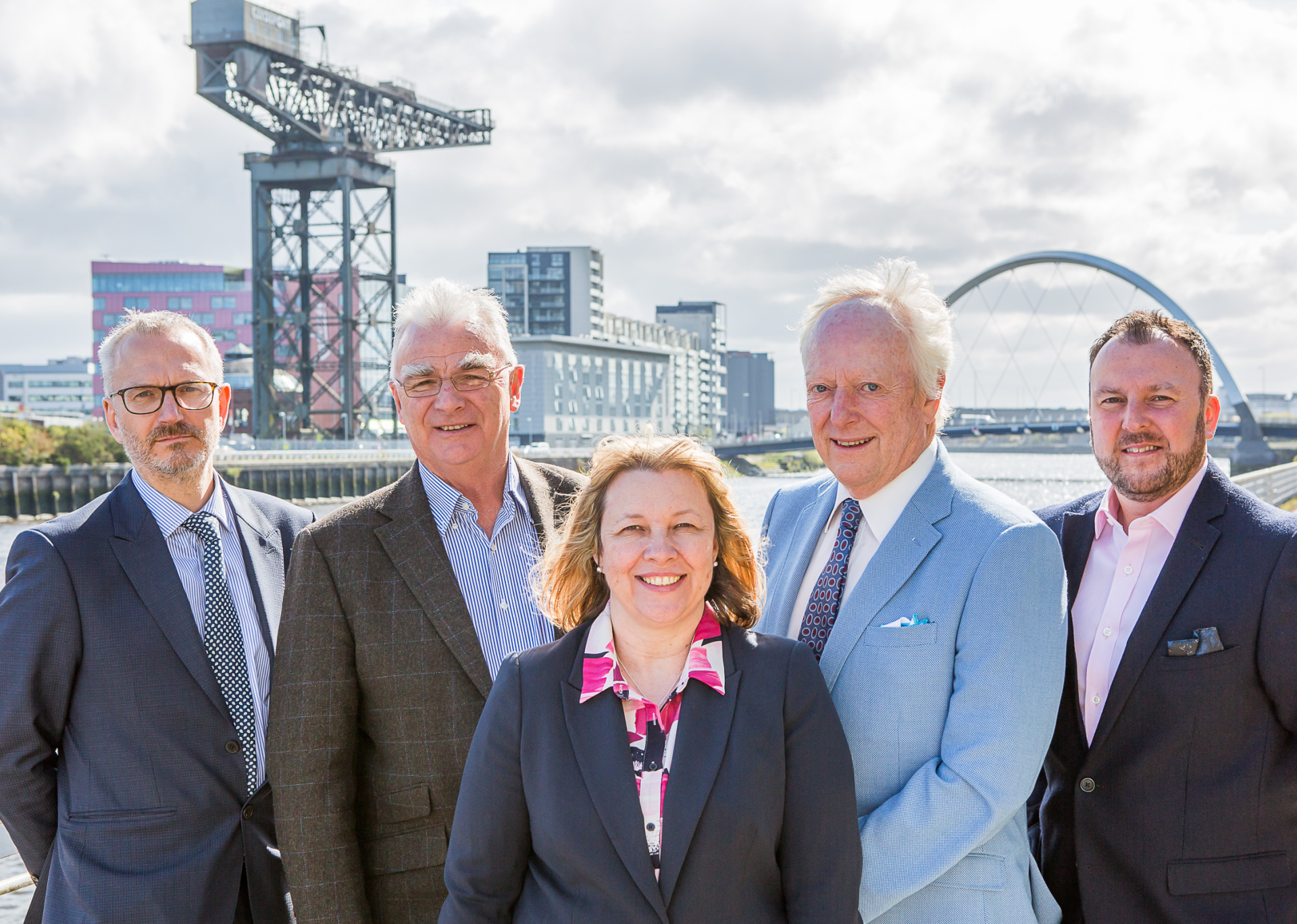 2018
Most notably in this year, we acquired Glasgow based housebuilders, Dawn Homes as part of a £20m deal accelerating our growth and expanding our land bank in new regions such as West Central Scotland and Ayrshire.
Following our listing last year, we launched a share save scheme for our employees. 69% of our workforce signed up – well above the average for this type of scheme. This led to Springfield winning the ProShare Award for Best New Share Plan.
In 2018, we made commitment to future proofing our homes by including cabling for electric car charging points. As the Scottish Government are working towards phasing out petrol and diesel cars by 2030, we've pledged to include cabling for electric car charging points in all homes with driveways making the installation of a charging point for customers, when they make the switch to an electric vehicle, far less intrusive.
Also in this year, we secured land for a 1,900 home village, Gavieside in Livingston, and we completed our 2000th affordable home. ​​​​​​​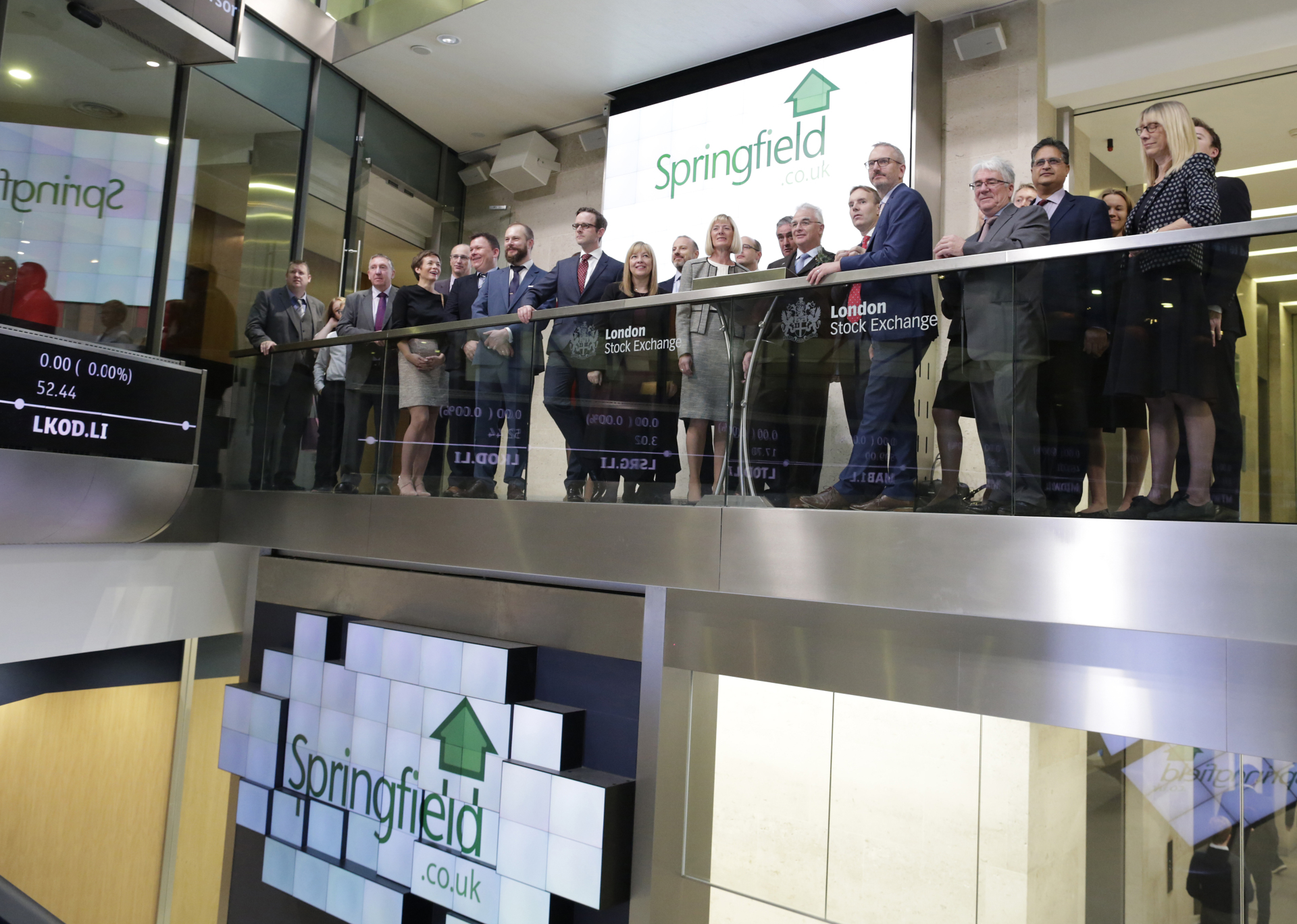 2017
It was a year of milestones for Springfield.

For the first time we passed £100 million annual turnover. This is a great achievement for everyone at Springfield and is a testament to the high-quality homes we build and customer focus. Further to this the company successfully floated on the Alternative Investment Market, raising £25 million in new shares.

Significant progress is made with Springfield villages. Bertha Park, Perth went on sale in September and was a hit with customers. We had 60 visitors in the opening weekend. Detailed plans for another of our villages, Durieshill, Stirling were submitted in December.

Golf View, luxury apartments overlooking Elgin Golf Course, The Range, Elgin and an extension to our sought after Knockomie Braes development in Forres went on sale this year.

Springfield Partnerships has a target of building 1,500 new affordable homes in the next three years. Planning for 74 homes just off Springfield Avenue in Duns was submitted to the Scottish Borders Council in July. This is the first Springfield development in the borders solely for affordable homes.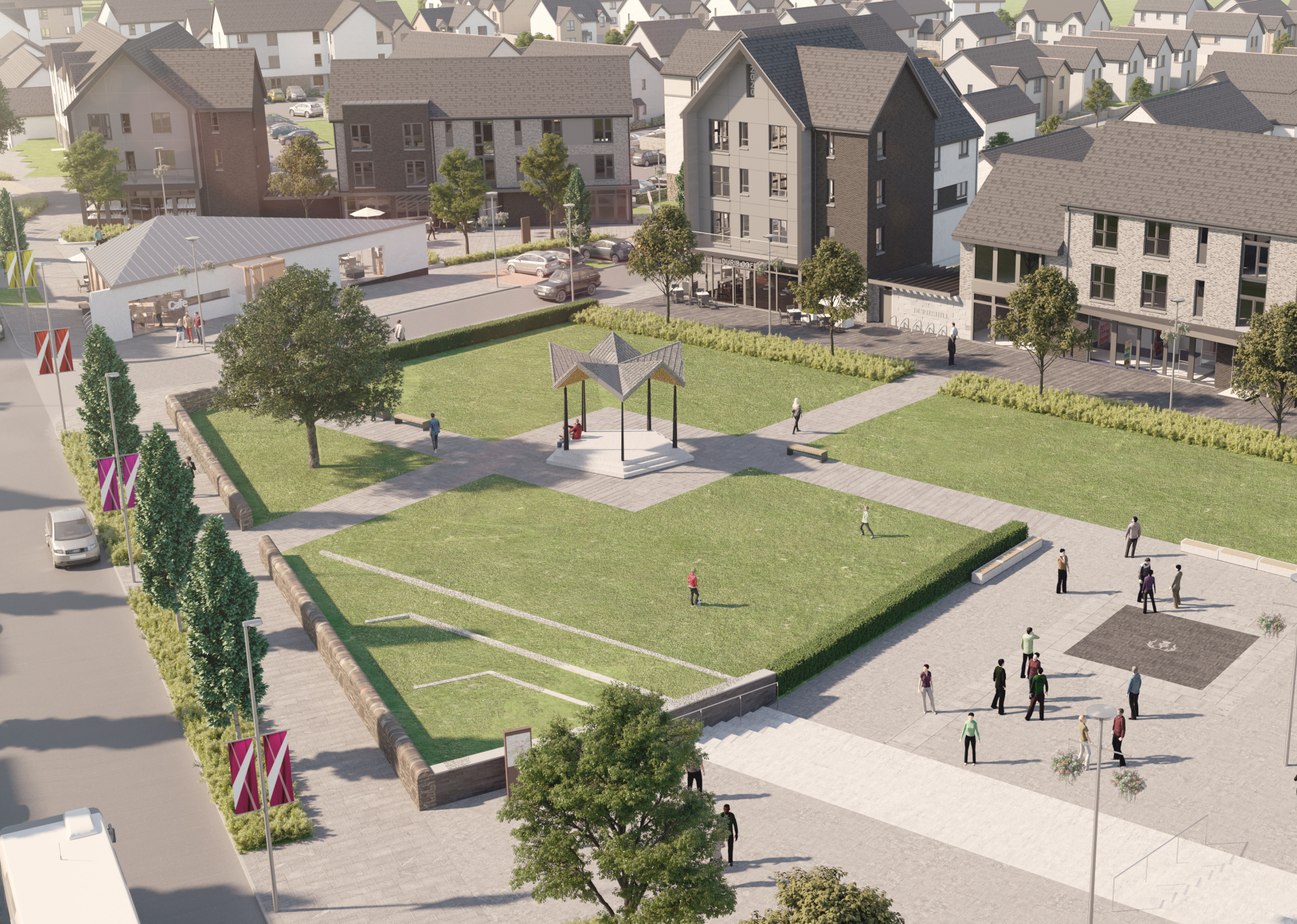 2016
Bertha Park, Perth, a new 3,000 home village, is given the green light, by Perth and Kinross Council. 2,500 homes in Elgin South, 100 homes at Hamilton Road, Motherwell and 106 homes, including the conversion of an existing steading into three houses at Linkwood, Elgin have also been approved.
Customers queued when homes at Hamilton Road, Motherwell went on sale in November. The development proved to be popular with 12 reservations in the first weekend.
Looking to awards, Homes for Scotland awarded Middleton of Canmore, Braemar, Private Development of the Year (Small). Duncansfield, Elgin won Premier Guarantee's Large Development of the Year with Site Manager, Victor Grant, scooping up the UK Site Manager of the Year award for his work on the site.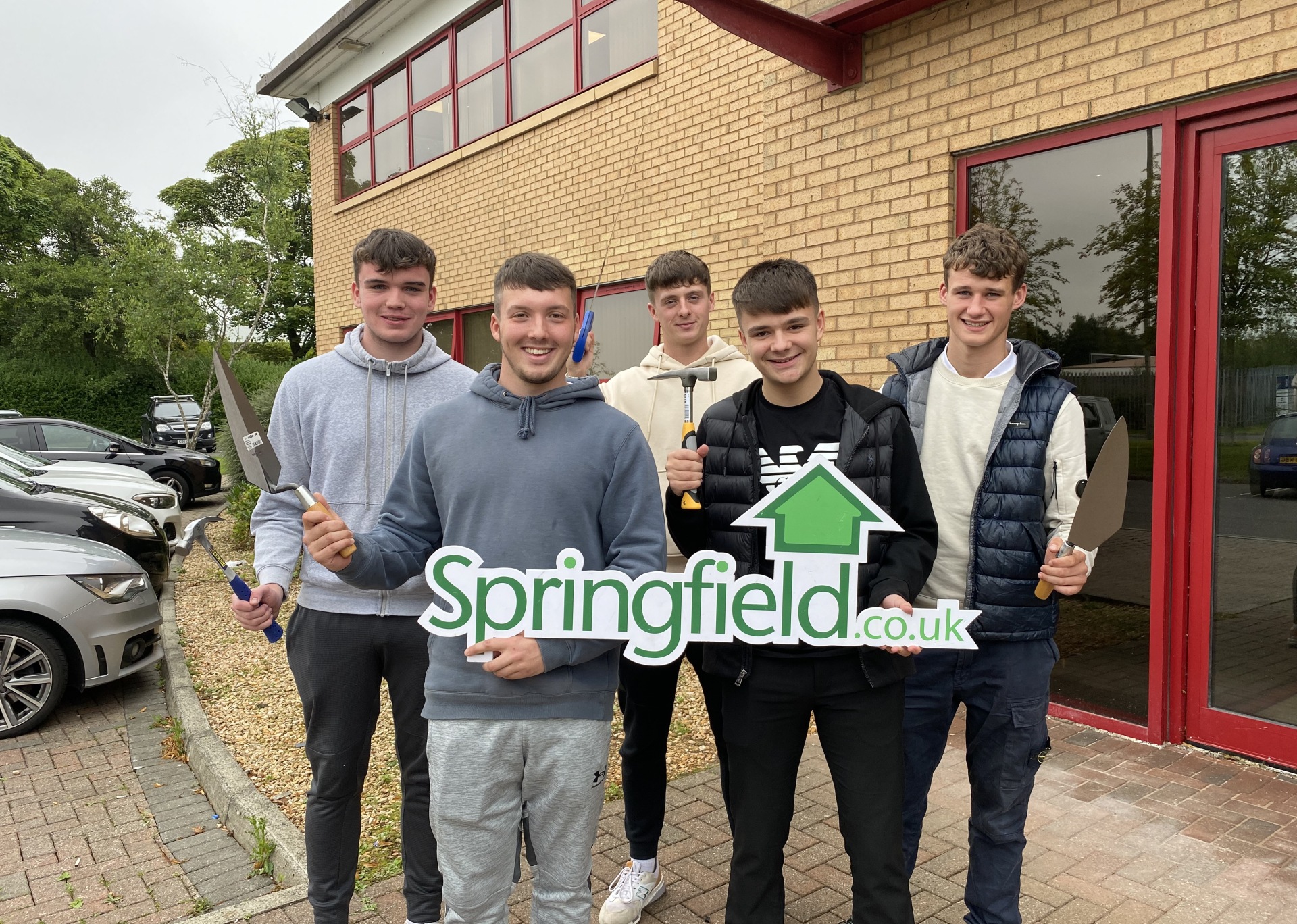 2015
Springfield continues to grow steadily and invest in the future of the industry. As staff numbers rise, we have reached our target of having apprentices form 10% of the workforce. In 2020, we increased this commitment to 15%.
We celebrated as Commercial Director, Ewan MacLeod and Managing Director of Springfield Partnerships, Tom Leggeat were welcomed to the Board. Customers camped out overnight to reserve a new home as we launched our new Springfield Village, Dykes of Gray in Dundee, and Springfield's customer focused approach is recognised after winning the Best Customer Service Initiative for the second year in a row. And we scoop up the coveted Home Builder of the Year Award.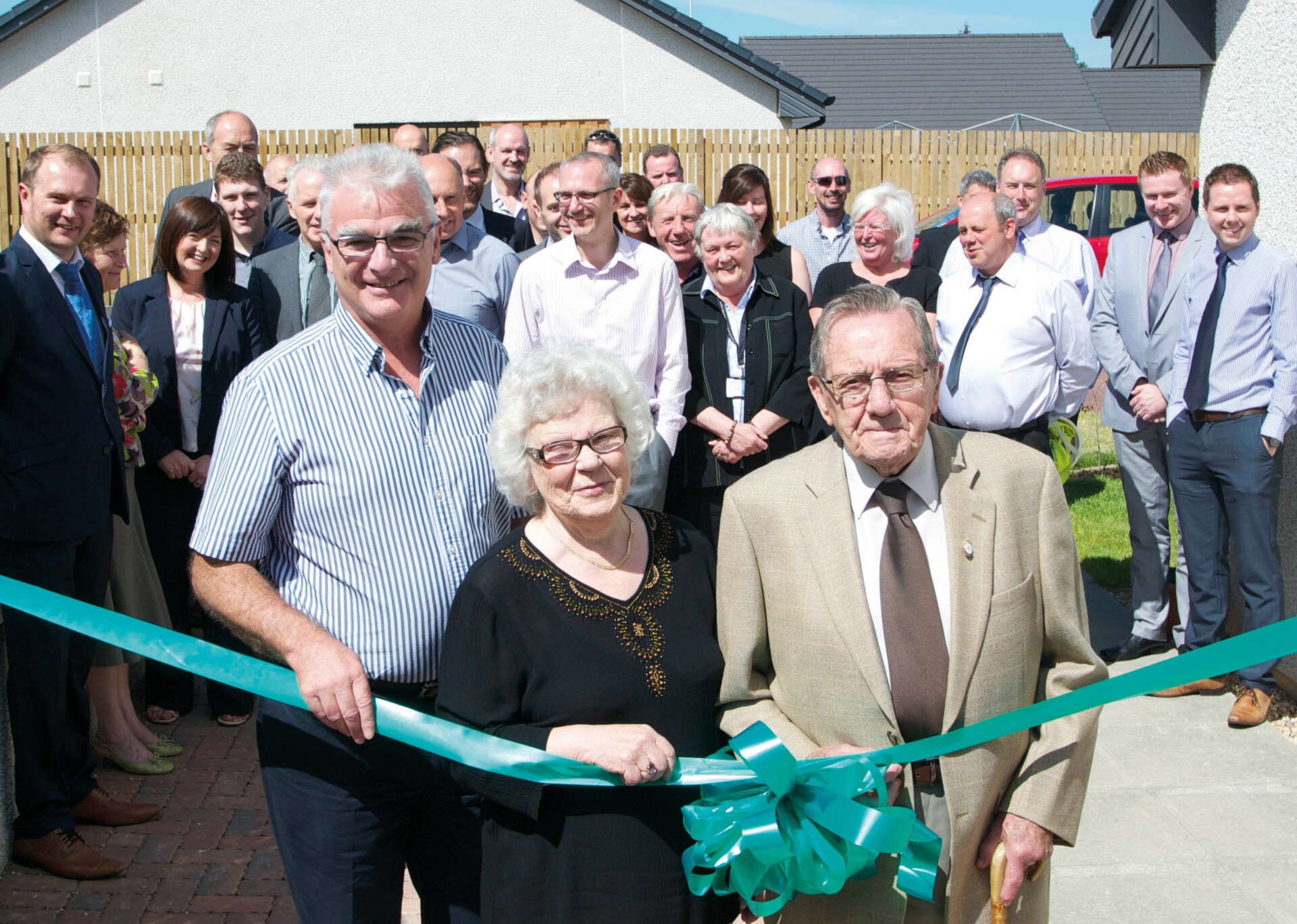 2014
Another busy year at Springfield. New developments are launched at Nairn, Milton of Campsie, Uddingston and Lanark. Demand is high as keen and eager customers regularly camp out at their desired developments to get the home they want.
There is quite a haul of awards for Springfield in 2014. We are awarded House Builder of the Year, for the 2nd year in a row, Scottish Business of the Year, Sales and Marketing Excellence, Best Employer and our unique 'Choices' wins best Customer Initiative. The Springfield Partnerships Team, specialist in affordable housing, win Partnership of the year in December, not long after handing over their 1,000th affordable home.
The celebrations continue as the business reaches a significant milestone as the final part of the 'Redrow' deal is concluded with the final payment made as scheduled. ​​​​​​​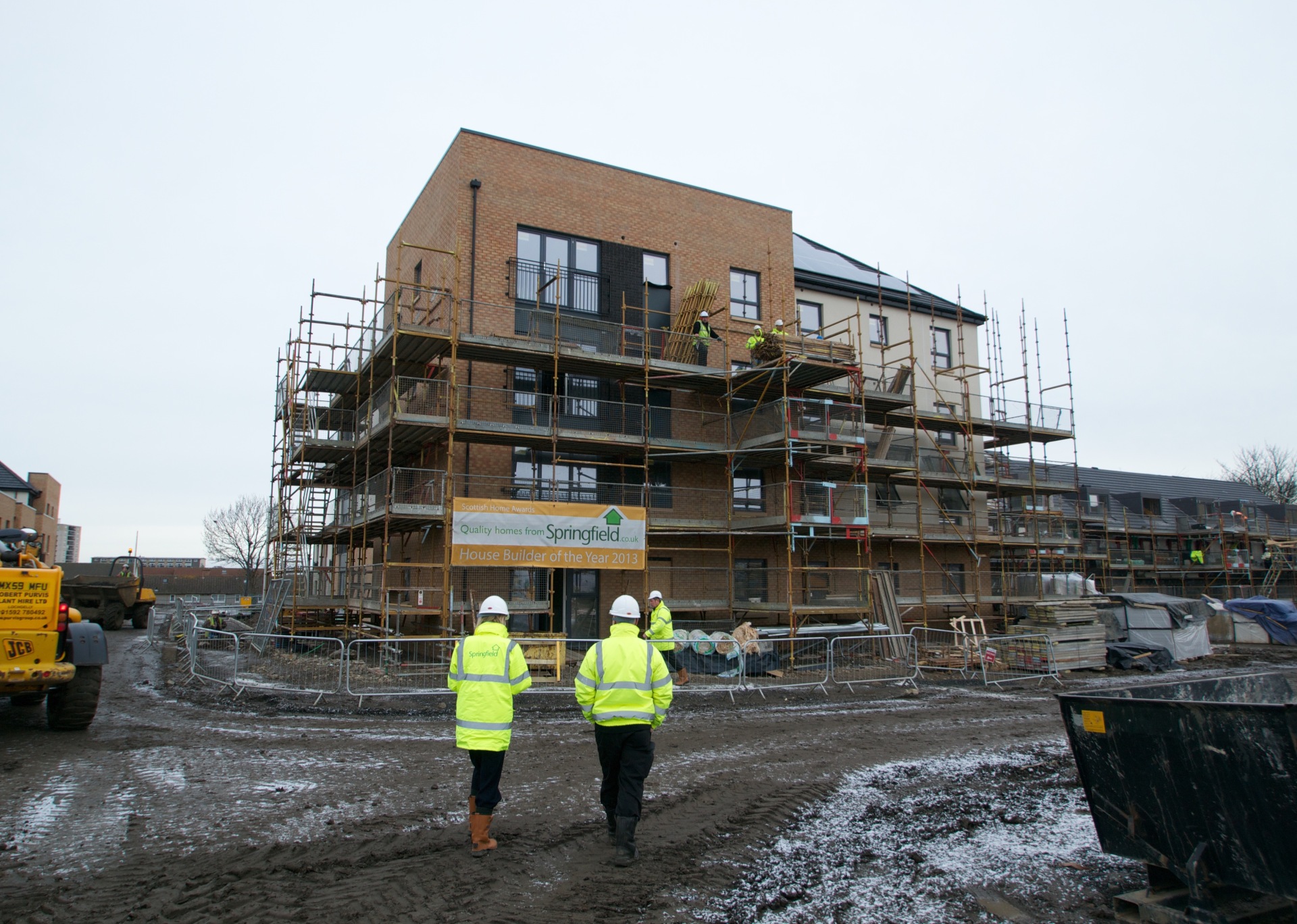 2013
2013 was a great year as we were named Housebuilder of the Year. Contracts are signed and work begins on over 200 new affordable homes for Muirhouse Housing Association in Edinburgh. Working ahead of regulations, each of these homes is built to silver energy standard.
And we're working on over 30 live sites and there's lots in the pipeline, including masterplans for over 3,000 homes in Perth and a new village at Dundee − plus a variety of other developments across Scotland.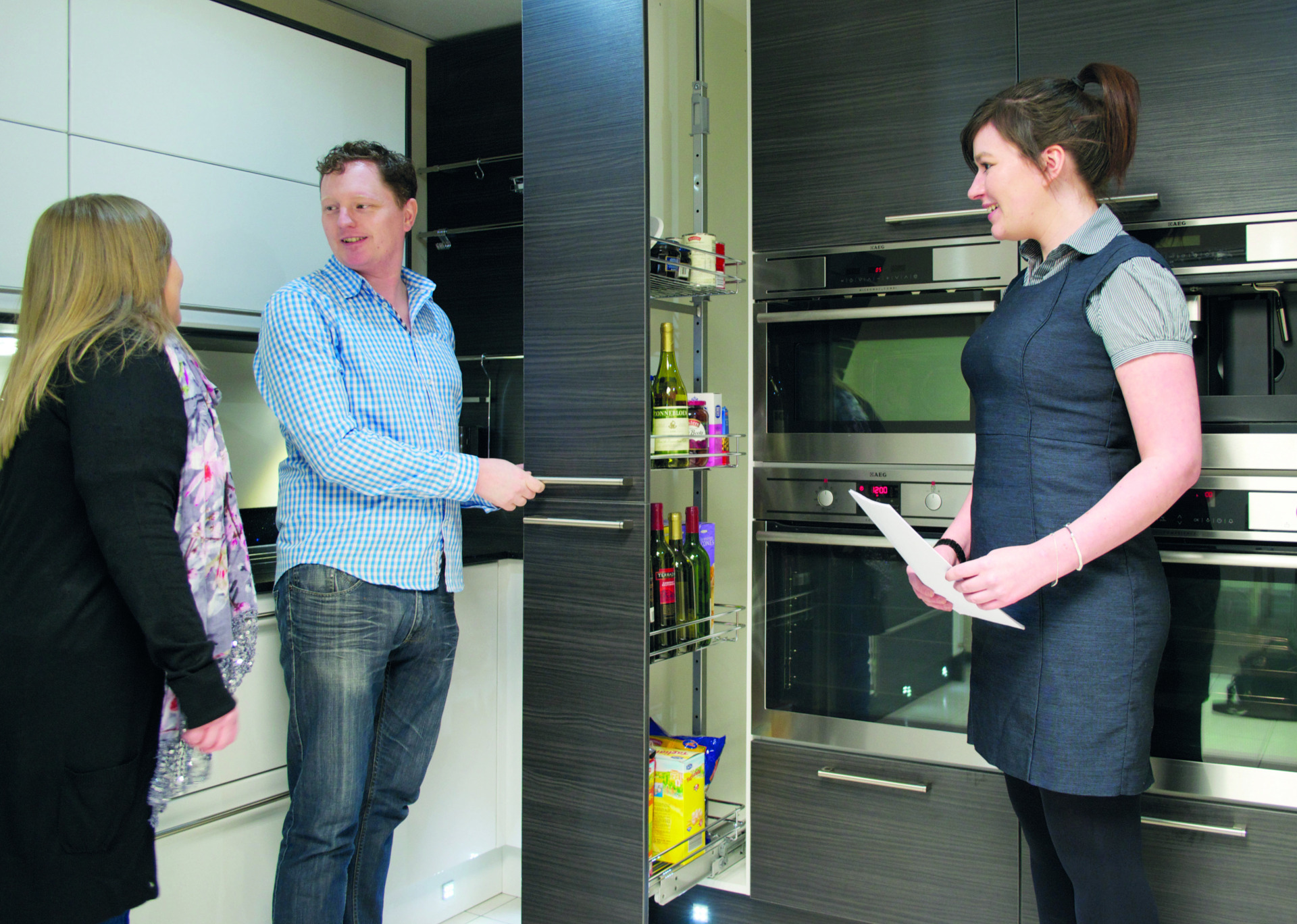 2012
Following from the purchase of Redrow Scotland, Springfield Choices is rolled out for customers in the central belt. Now, all of our customers can tailor their new home to suit them from the kitchen cupboards to the colour of the walls.
Also in this year, we complete the first 2016 compliant Gold Active Energy Standard home in Scotland. Built in partnership with Kraft Architects and David Blaikie, it's unveiled at the Fife Innovation in Housing Showcase to much acclaim. The house is constructed from a super insulated kit and a timber core. The project makes the shortlist for a Saltire Award.​​​​​​​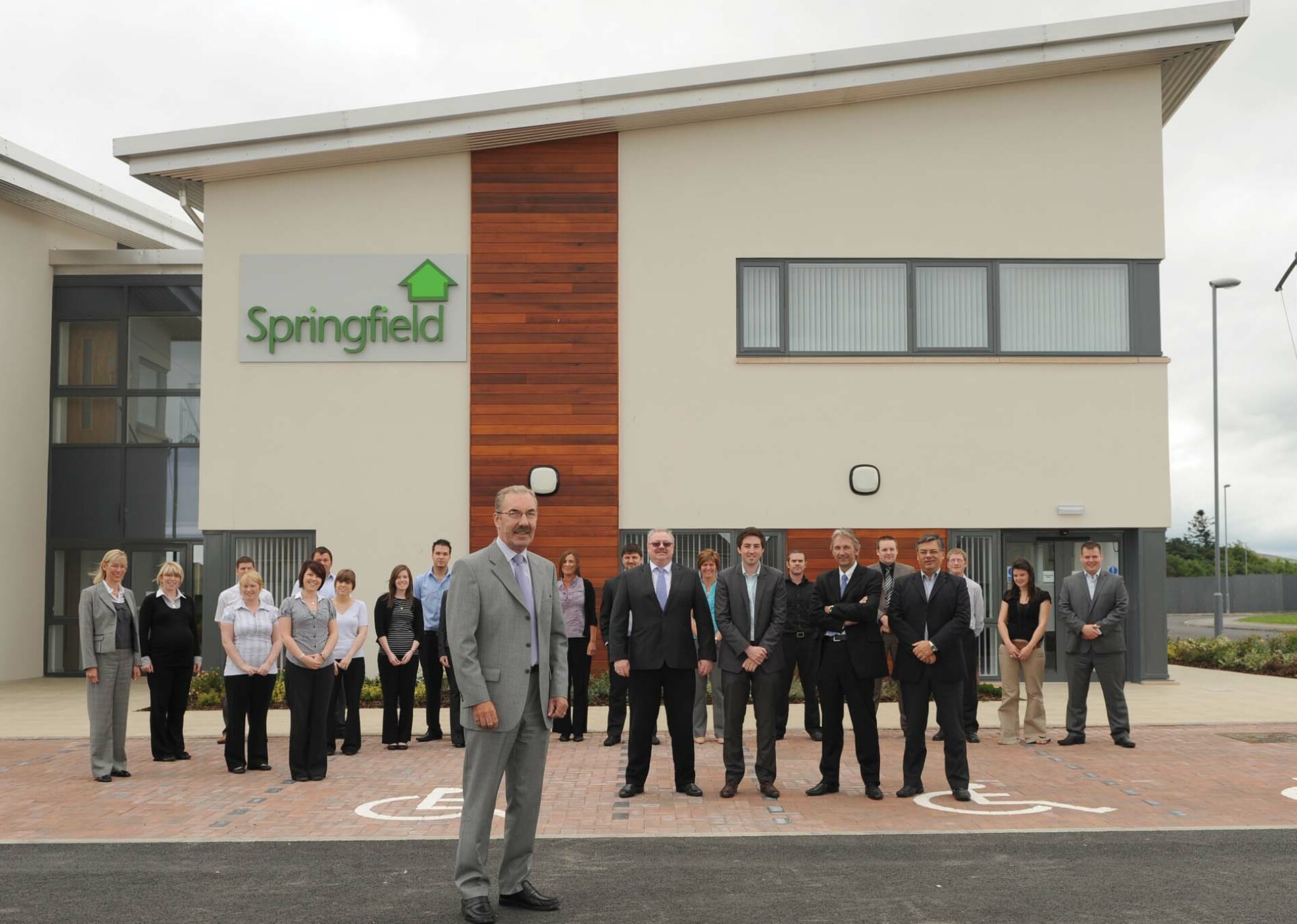 2011
In 2011 we were faced with an exciting opportunity that changed the face of the company. Property company, Redrow were looking to sell their developments in Scotland. Springfield had already started to expand to central Scotland with Edina Apartments. 40 part-built apartments in Milton Road Edinburgh which sold out in a phenomenal 20 weeks. By the end of the year, the £49m deal added 800 plots to the Springfield portfolio.
Springfield donated a fully wheelchair accessible pool to Moray Hydrotherapy Pool which was opened by Lady Moray. To this day, Springfield still supports charities, local groups and organisations in areas where we are building that work with children, the elderly or those with disabilities.
And we move to a purpose-built office, Alexander Fleming House, named after the Scot, who many believe had the greatest positive impact on the way we live today. This is still where we are based in Elgin today.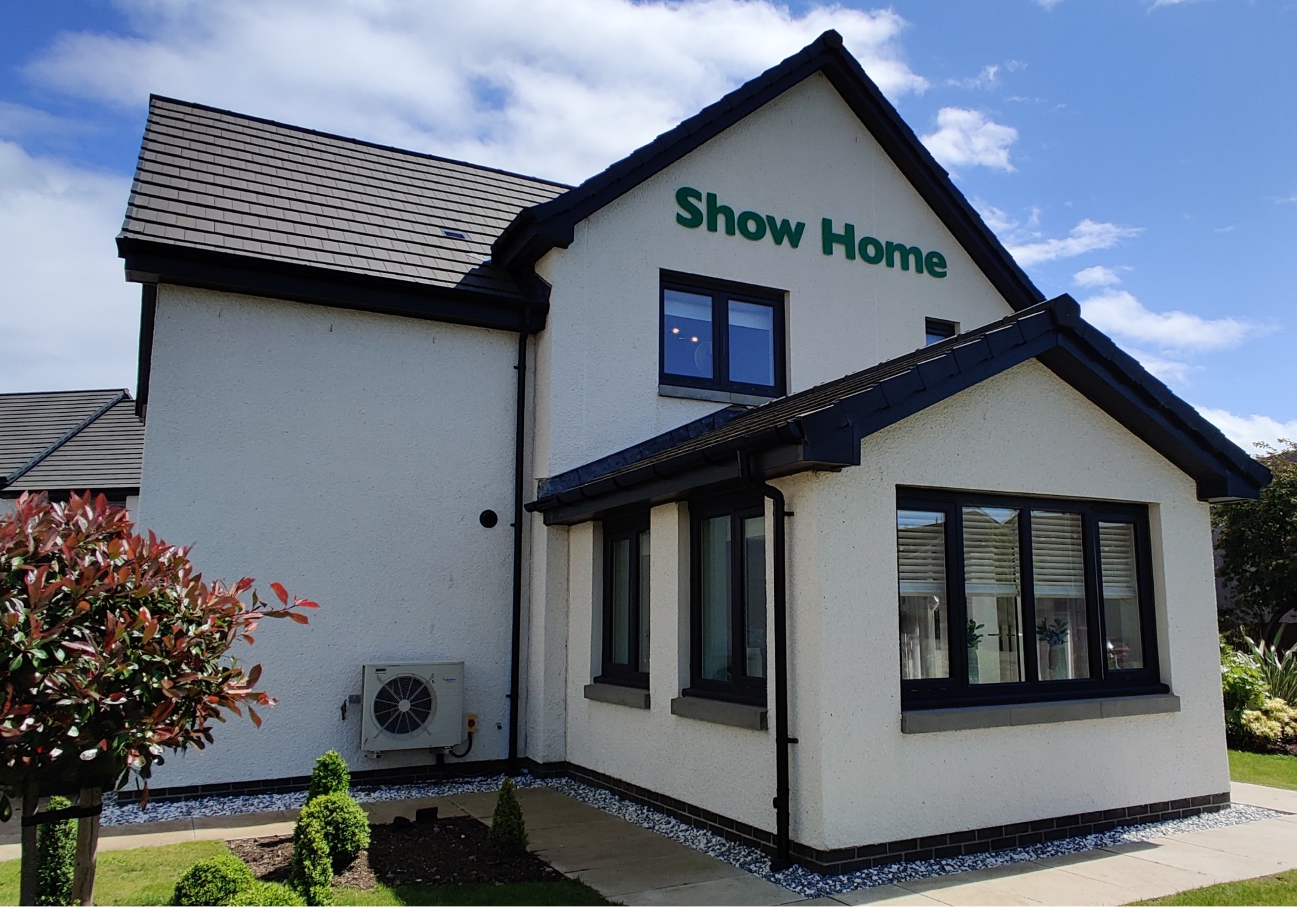 2009
We begin to install air source heat pumps in affordable homes. This initiative goes on to become the largest roll out of air source heat pump technology for residential use in Scotland.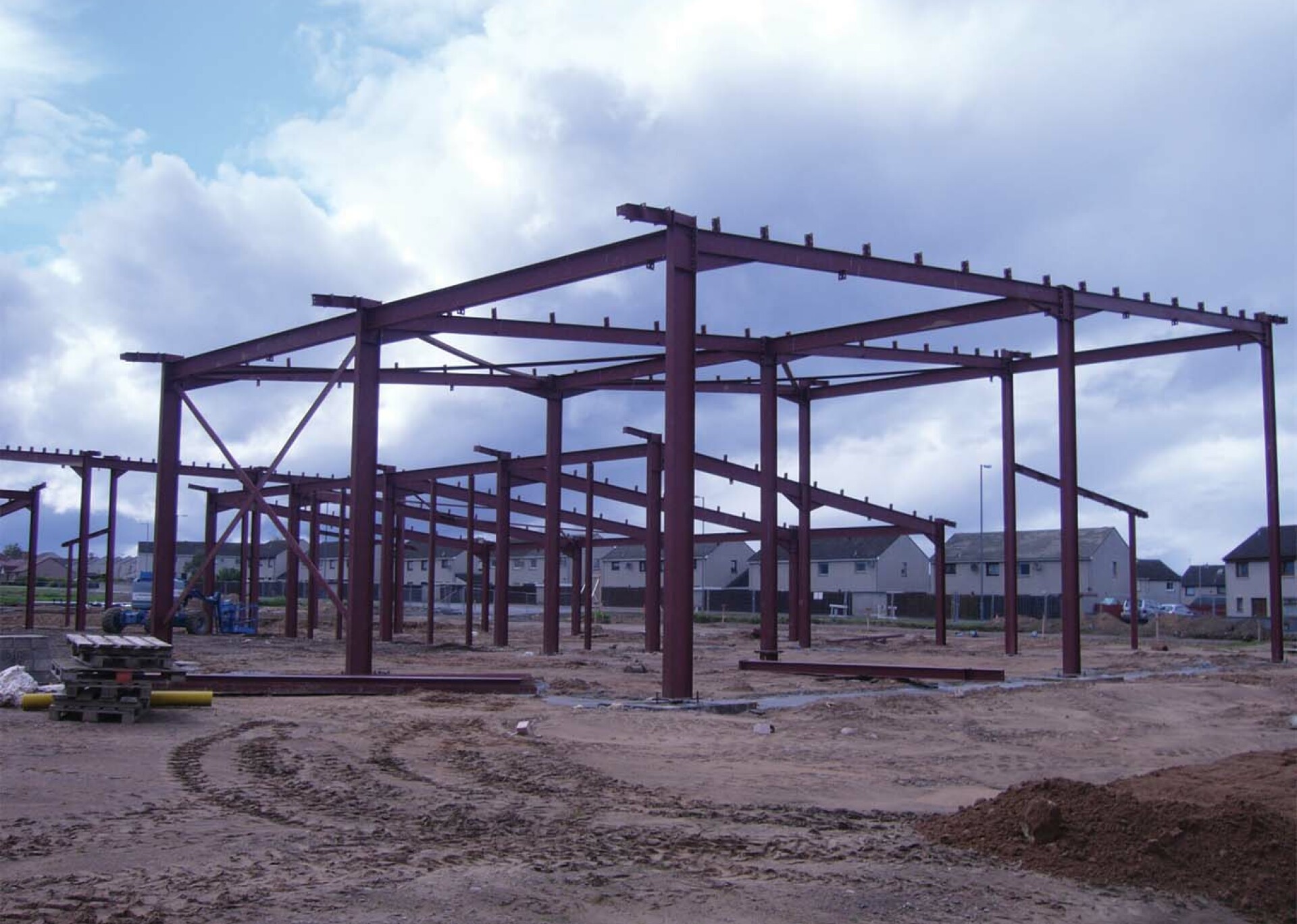 2006
By 2006, a new logo has been developed, 1,003 homes had been completed and relationships with local councils were developing and the name of the business was becoming more known.
The Board was also strengthened with the appointment of Innes Smith, now the companie's Chief Executive, as Financial Director.
Construction starts on the first phase of Southfield Community Park, the home of the north of Scotland's largest medical centre, a 12,000sqft retail space, a 6,000sqft day care nursery and 17,000sqft of offices.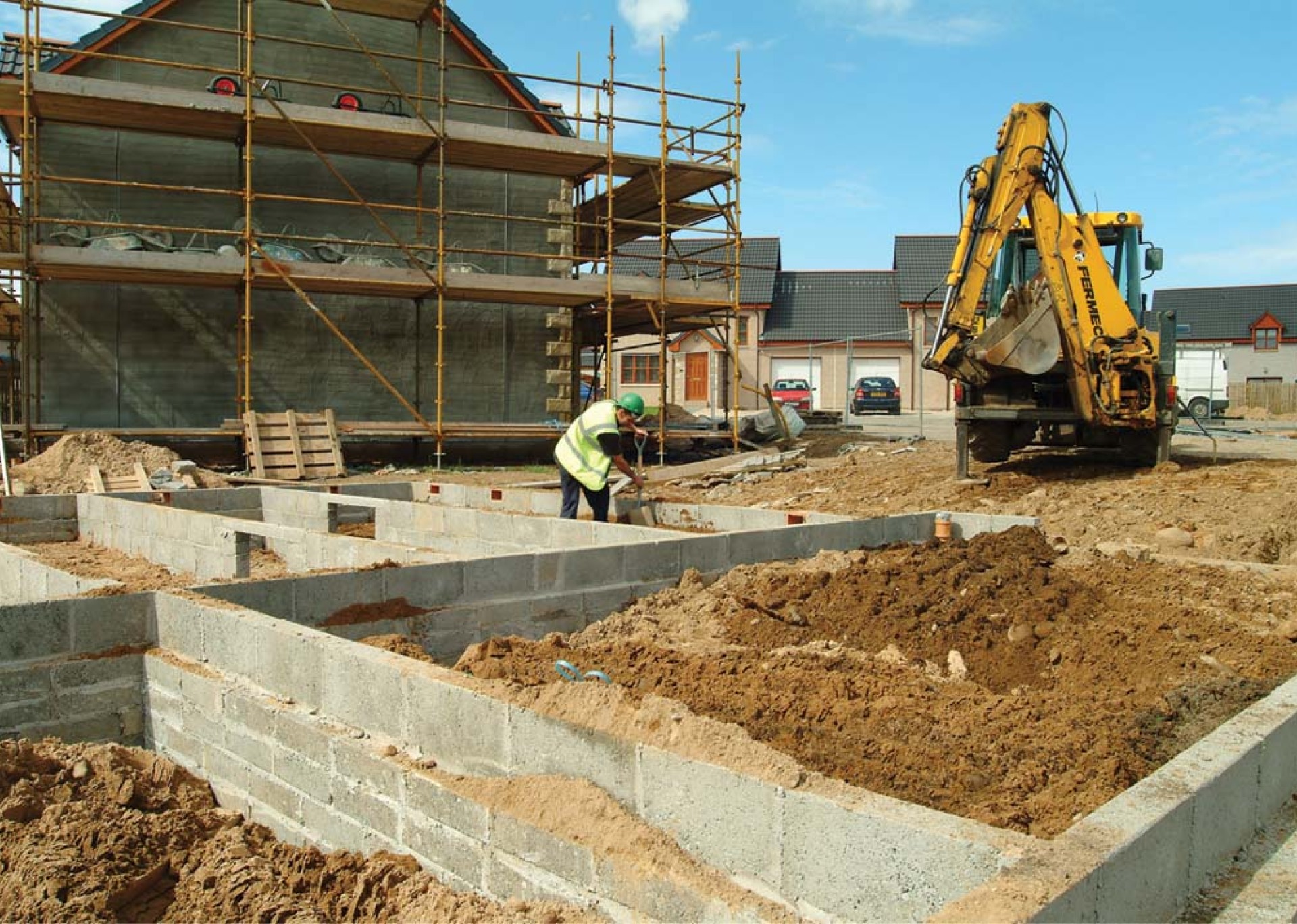 2004
We start work on Elgin South at Glassgreen – 1,100 new homes and extensive community facilities.
With high demand for new homes in Elgin South, we launch the Linkwood development of 300 new homes. Eager buyers camp out overnight to secure a home – a sign of things to come!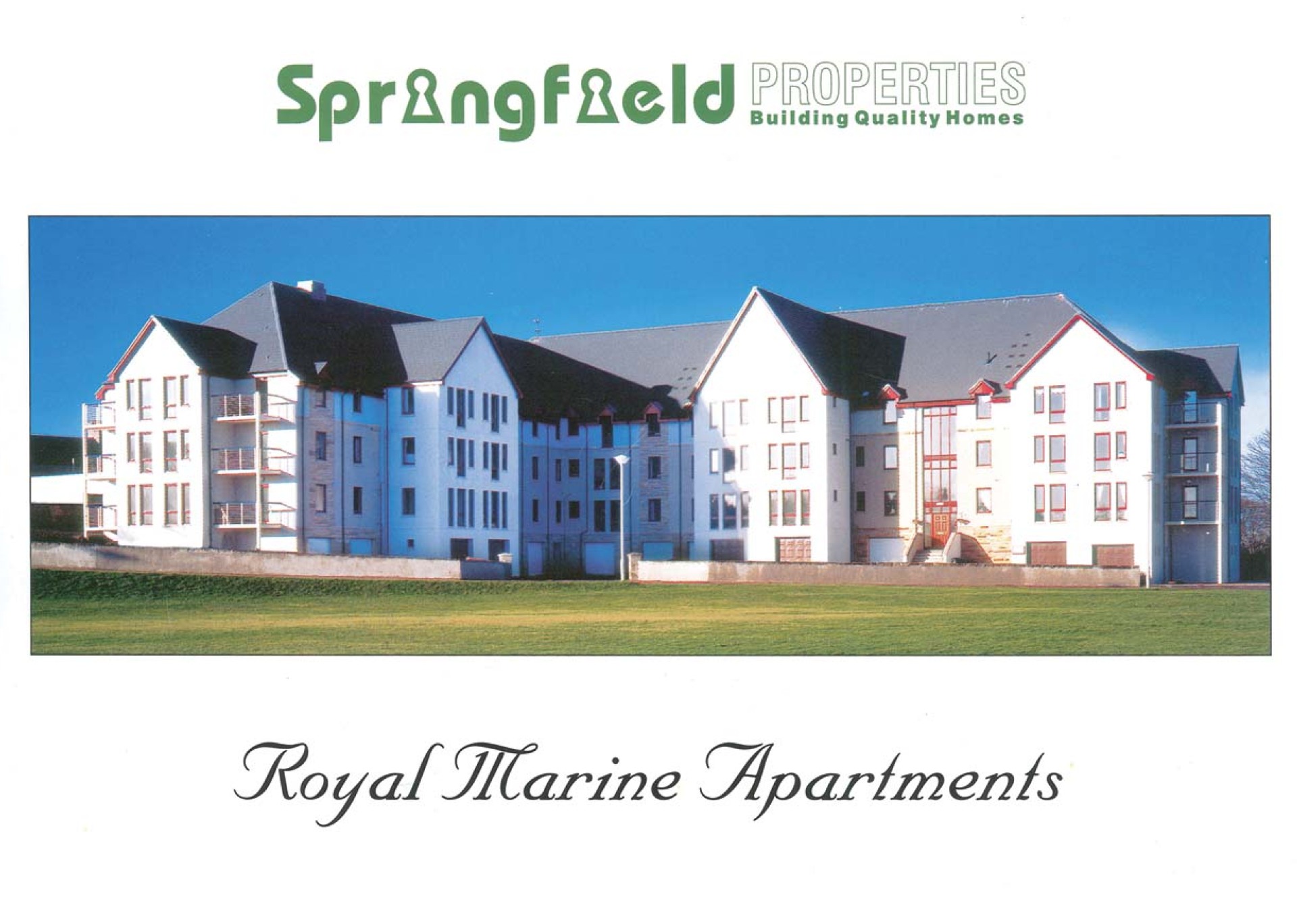 2002
Understanding the importance of developing the young workforce, Springfield hired our first ever apprentice. Our commitment to training and development evolves as the business grows and in 2015 we achieve 10% of the workforce in apprenticeships or training.
In 2002 the Scottish Government identified the requirement for more affordable housing in Scotland to meet the growing housing need. With Springfield based in Pentland House, Elgin at the time, Sandy saw the opportunity for growth by branching into affordable housing. Later that year we built our first affordable home. In 2014 we'll complete our 1,000th. Offering high quality affordable housing is a substantial part of our business today. ​​​​​​​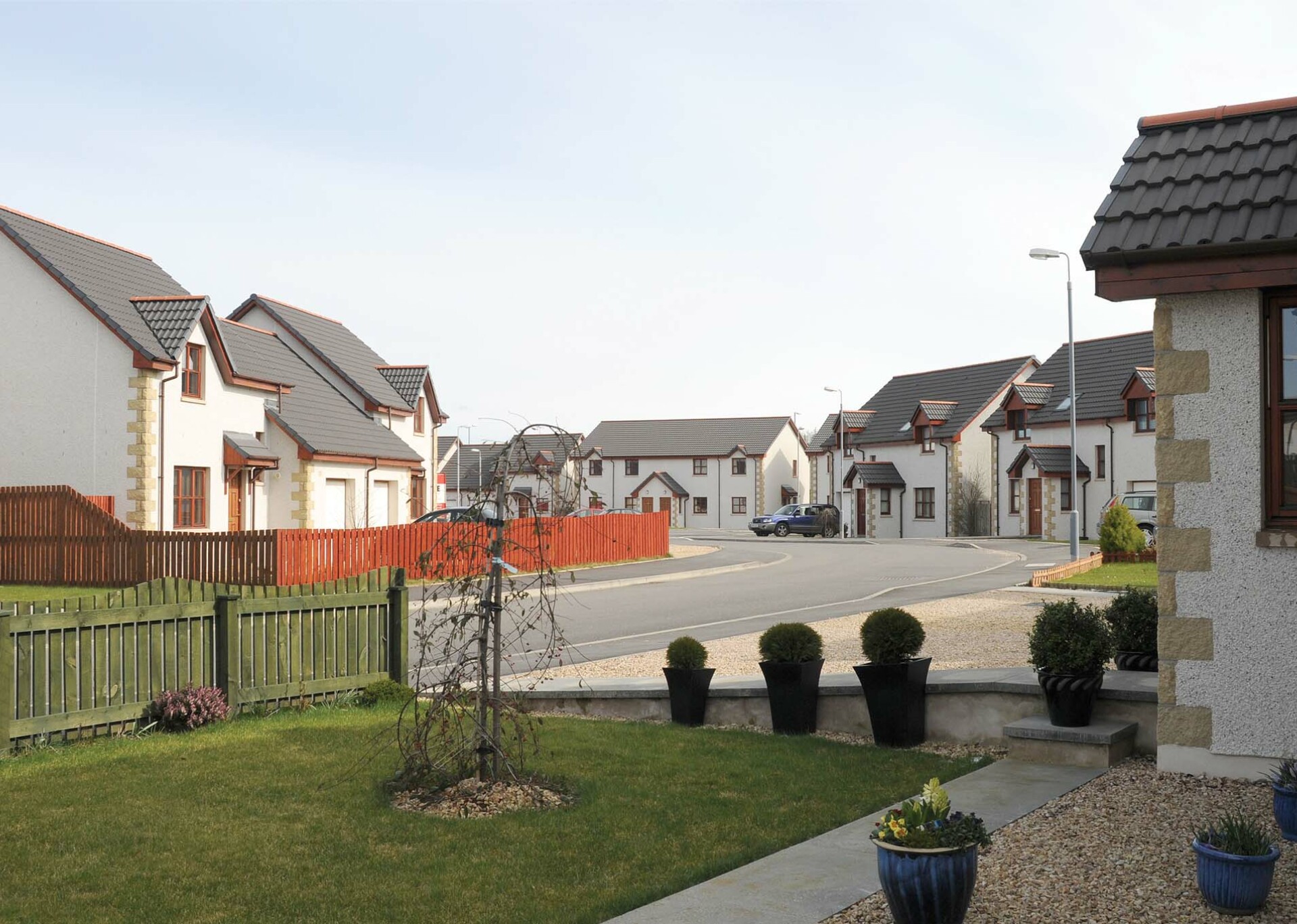 1998
In 1998, as the company was growing steadily, working solely with contractors, who were also working on other jobs, was beginning to restrict progression. As a result, construction was moved in house and fourteen more employees were taken on.
As we launched our first major development of 100 homes in Forres, our USP was born. Buying a home is such a significant purchase, Sandy didn't understand why a customer couldn't customise their home to suit them, especially when they were buying off plan. This led to Springfield Choices where customers could create their dream kitchen, select the bathroom they've always wanted, opt for an open or closed plan layout and even pick the paint colour of the walls. Choices has grown with us as we've evolved and it still sets us apart from the rest of the industry.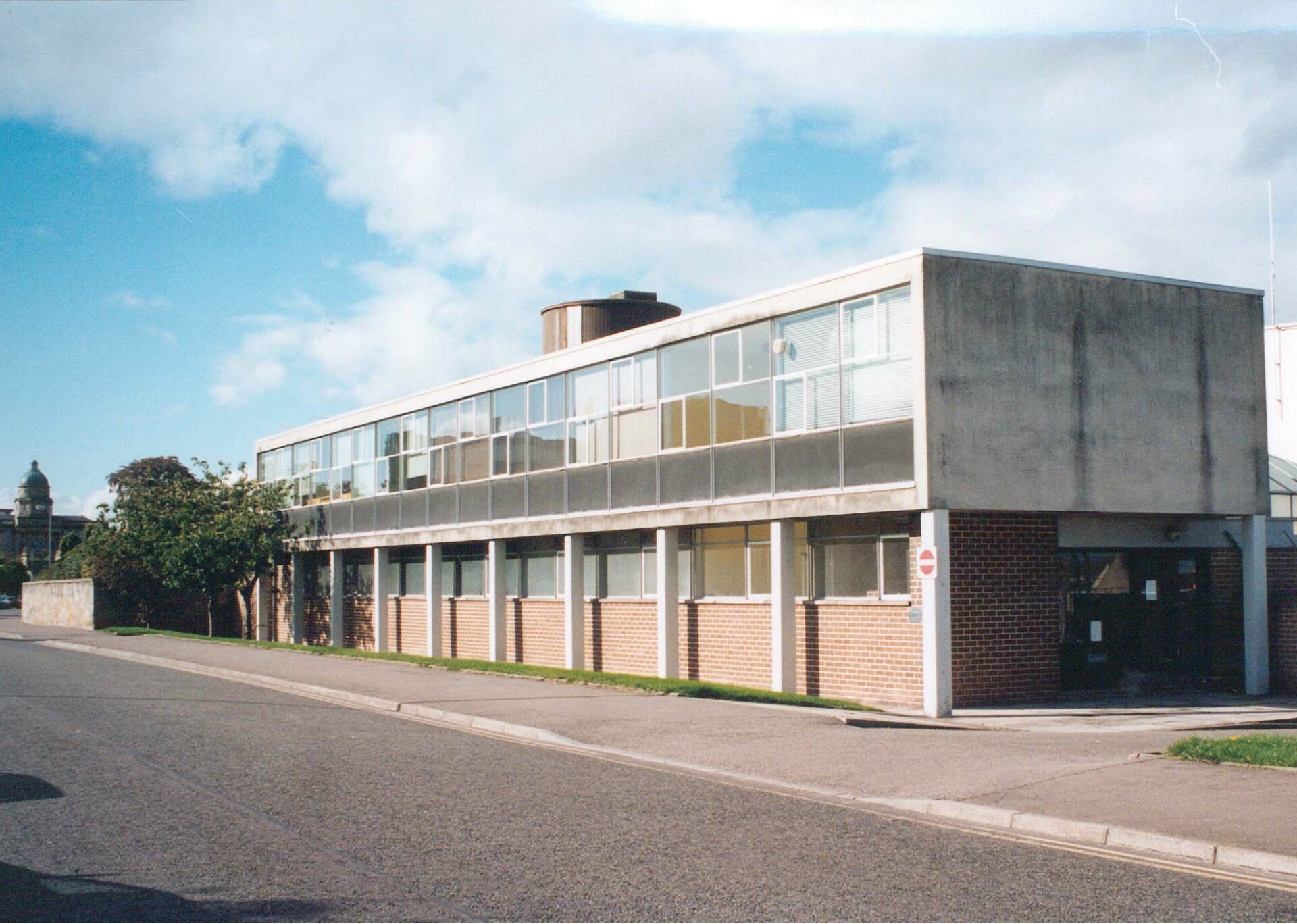 1996
In 1996, by the time the first office opened along South Street in Elgin, we had our own logo and had completed 124 new build homes. Springfield's first employee, young architect John Main, is taken on in this year. John later went on to become Managing Director of the company between 2007 and 2009.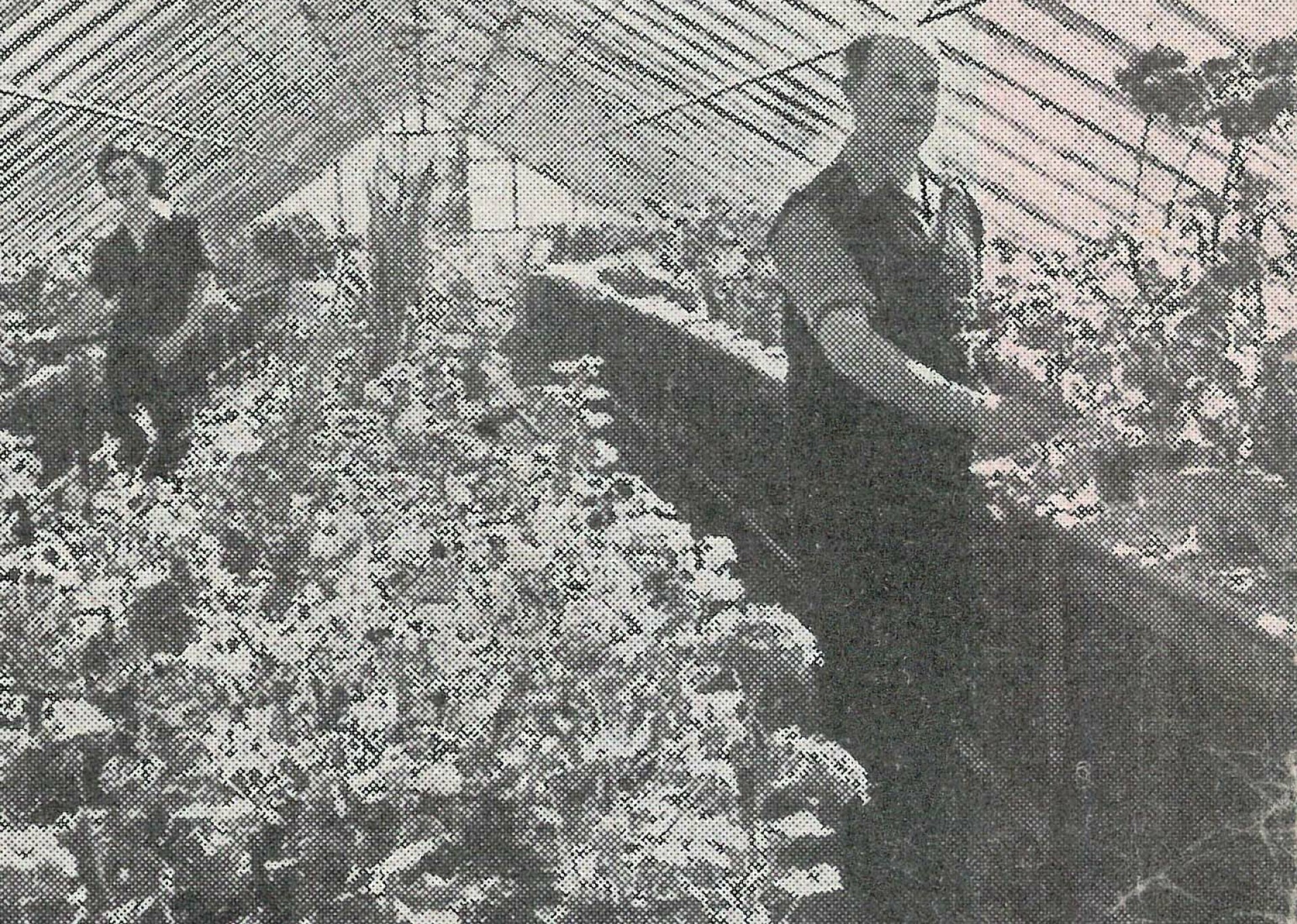 Early 1990s
Our founder's grandson, Sandy Adam, moved the company from market farming into housebuilding. He started small with a couple of renovation projects in Buckie before going on to acquire planning on a number of houses on land he owned. While working from his makeshift office in the spare room of his farmhouse Sandy began talks with development companies and landowners to the south of Elgin. Today that land gestures over 1,100 homes as well as shops, offices, a nursery, doctor's surgery and playing fields.